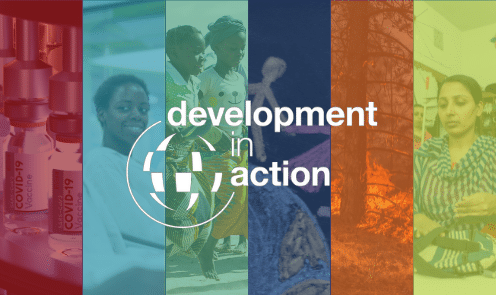 Development in Action Webinar SeriesFrom Chennai to Coventry: A peace Educator's journey into policy
Gender and peace security
In this webinar, Commonwealth Alumnus Kirthi Jayakumar will share her experiences working as an entrepreneur in the gender equality and peace education space. Kirthi will discuss what it meant to be a Commonwealth Scholar and the skills her education in the UK gave her to be able to enhance her work on the ground in her home country, India.
This webinar will address the CSC development theme, Strengthening global peace, security and governance.
The webinar will last for approximately one hour, including a Q&A session.
The CSC's Knowledge Hub webinar series is open to all Commonwealth Scholars and Alumni. Through the series, Commonwealth Scholars and Alumni will discuss their work and contribution to development across a range of contemporary global challenges, and provide insight into ongoing research and action.
You can watch previous webinars on the CSC's YouTube channel.
Kirthi Jayakumar is a feminist researcher working in the areas of Women, Peace, and Security (WPS), Transitional Justice, and Feminist Foreign Policy. She founded and runs The Gender Security Project, one of the few WPS centres in the global south, which works at the cusp of gender, security, peace, and conflict through research, reportage, and documentation.
Kirthi taught herself to code and created a web and mobile app, Saahas, and a Facebook ChatBot to support survivors of gender-based violence across 196 countries, and to assist bystander intervention. Her areas of interest include gender studies, peace and conflict research, security studies, and international human rights and humanitarian law. She formerly founded and ran the Red Elephant Foundation, a civilian peacebuilding initiative that works for gender equality through storytelling, advocacy, and digital intervention.
Kirthi is a 2018 Commonwealth Scholar from India. She completed her MA in Peace and Conflict Studies from Coventry University.